PROJECT NAME: Facemasks for Freedom
LOCATION: Uganda
GOAL: Create sustainability in a COVID positive world
The Need
In Uganda, like so many nations, the poor have become even more marginalized and at risk during the pandemic. Impact Nations has partnered with local leaders to provide over 500,000 meals in Uganda since the virus left so many without work.
Now it is time to begin searching for sustainable economic opportunities for the poor in the new reality that is emerging. Although the economy in Uganda is slowly beginning to open up, there are strict health guidelines that must be followed.
First and foremost, everyone over the age of seven is required to wear a government-approved face mask at all times when in public. This includes in taxis and the marketplace.
Unfortunately, many families cannot afford eve the small expense of a face mask. And yet, without the face mask, they are unable to leave their homes to find work and generate an income. Thus, a mask equals economic freedom.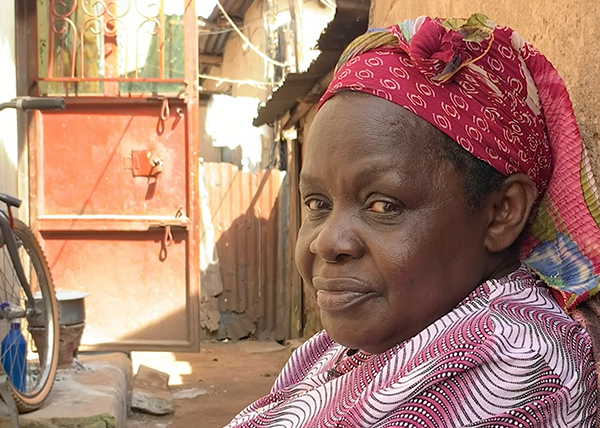 The Solution
Our friends at The Remnant Generation have received certification from UNBS (the Uganda National Bureau of Standards) to manufacture the required masks. They have already gathered a team of former graduates of our vocational school, the School of Purpose, with the capacity to make at least 500 masks every day. In addition to employing many women, the profits from this small business are redirected back into the ministry and the school.
You have the opportunity to accomplish three amazing things at the same time. By purchasing masks for the poor, you will provide them with a chance to go find work, help invest in the School of Purpose and generate employment for young women. Each of these young women, many of whom are single mothers, have trained for this very moment.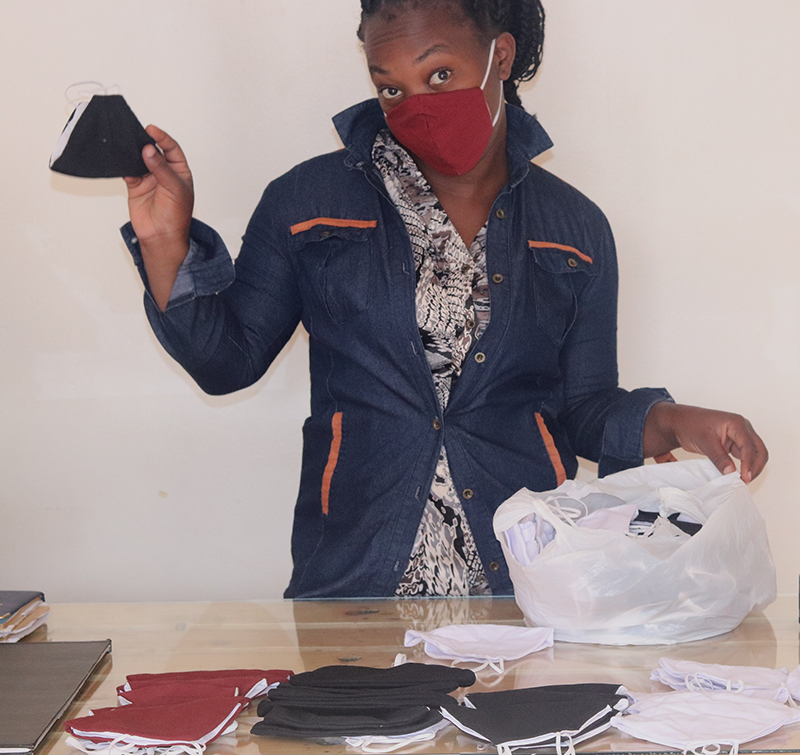 Already begun
We have teams standing by, waiting to distribute masks to the poor, waiting to show them the love of Jesus with this simple, but powerful gift. The tailors have already received orders for 2500 masks and have re-invested nearly $1000 dollars back into their ministry. But they're just getting started!
Will you give them more work? For $25 you can purchase 20 masks for the poor and provide employment for the tailors. You can help someone take their first step toward economic freedom.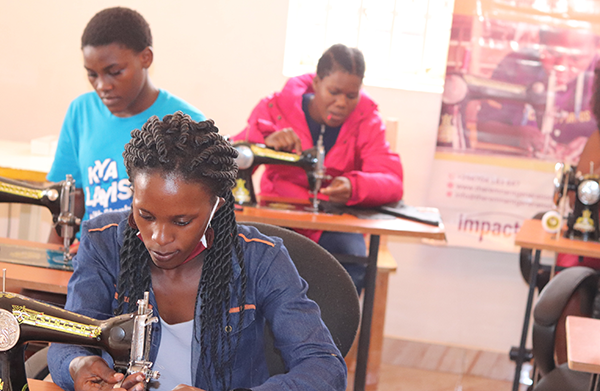 ---

PROJECT NAME: Daughters of Destiny
LOCATION: Kenya
GOAL: Provide safe housing, business training, and a new life to women in Kenya
Everything is about to change…
The Opportunity
Every year, we take a team of women to Kenya. During the evenings of these very special Journeys of Compassion, we walk the streets and invite women to join us for a meal, and then we present them with the greatest news in history.
Every year, dozens of women respond to this Good News. The life they leave behind is filled with unimaginable pain, fear, and despair. The life they have just received is filled with hope, security, and freedom.
Over the following three months, these women will receive safe housing, counseling, medical care, basic education, business training, and the opportunity to start their own small business.
You Can Help
These women are turning to Christ and leaving their life on the streets. Now it is up to us to join them in their journey.
$25 provides a day's wages and a night in a safe hotel, free from the shame and fear a girl feels as she works her street corner.
$125 Provides three months in a safe house, where a woman will receive couseling and business training.
---
PROJECT NAME: Philippines Typhoon Response
LOCATION: Eastern Samar, Philippines
GOAL: Provide for those affected by Typhoon Ambo

The Story
On May 14th, the Philippines was ravaged by Typhoon Ambo, bringing devastation to an estimated 47,000 families. All of this in the midst of the misery of the COVID-19 crisis. As a result, their streets are flooded, their homes collapsed, and their water supply has been contaminated.
One man called in tears:
"SOMEBODY FROM JIPAPAD CALLED ME YESTERDAY BEGGING FOR OUR HELP THROUGH WATER FILTERS BECAUSE WHOLE TOWN OF JIPAPAD WAS FLASHED OUT WITH MUDDY FLOOD AND SO THE DRINKING WATER IS VERY CRITICAL FOR THEIR HEALTH. HE SAID THAT IF THEY WILL HAVE A WATER FILTER THEY CAN GET WATER FROM THE RIVER AND THAT WILL SUSTAIN FOR THEM FOR A LONG PERIOD."
Meet Pastor Ronnalyn
Ronnalyn and her team have spent the last seven weeks working tirelessly to provide food to the starving people of the Philippines who lost their incomes due to Coronavirus. She has been consistently pouring herself out for the sake of the poor.
The Need:  Clean Water and Shelter
Typhoon Ambo destroyed Ronnalyn's home and church. She now has nowhere to distribute food from. In fact, she has nowhere to call home.
$6250USD will enable Ronnalyn to re-establish her home so she can resume caring for the poor.
Additionally,  families in towns like Jipapad will face severe illness or even death due to contaminated water. A $75 filter will provide safe drinking water for up to three families, sustaining them through this crisis and for many years to come.
Will you help?
WILL YOU HELP RONALYN AND HER COMMUNITY RECOVER?
WILL YOU HELP HER RESUME FEEDING FOR THE POOR?
WILL YOU PROVIDE THEM WITH CLEAN WATER?
---
Update

Pastor Ronalynn's home is being rebuilt!
"Indeed, the word of God that says He is a very present help in times of need was again proven to us true… It has come to a point that we didn't know what to do, there was no place in our house where we can have a decent sleep, and people just keep coming asking for our help. Our responsibilities as Pastors and parents were tested all the more after Typhoon Ambo with the pandemic on the other hand. But we have proven that God is indeed faithful because of everyone who has extended their help to us, especially Impact Nations. So, with all our hearts, our family especially our children who are very excited and overjoyed that our house is now being fixed, a big Thank You!"
Their entire roof was blown out by the typhoon and will now be replaced by a new one with stronger trusses and beams.
---
PROJECT NAME:
Mosquito Nets
LOCATION:
Where needed in the developing world

GOAL:
To alleviate mosquito borne diseases
Malaria kills
over
400,000 people worldwide
every year
,
that is equivalent to the entire population of
Wollongong [NSW] and Geelong [VIC]
combined.
Imagine if these two cities were '
just wiped out'
overnight.
Impact Nations Australia
is committed to the purchase and distribution of mosquito nets to the rural villages where they travel throughout the world.
While the numbers can be overwhelming, the truth is that
this is a problem that can be relieved.
Here at
Impact Nations Australia
, we are committed to
being part
of the solution.
For the protection of five families the cost is only
$40
.  Along with our partners, we distribute these mosquito nets door to door. 
---
PROJECT NAME: Medical
LOCATION: Where needed in the developing world
GOAL: To provide free medical care
Many people in the developing world do not have access to free medical care. Impact Nations Australia supports Impact Nations International as they conduct mobile medical clinics in developing nations Over a four day period in Tanzania 2016 2200 people were treated at our clinics
Through a donation of $30 you can provide medical care for 10 people.
A donation of $750 can fund a whole medical clinic.
Your gift will provide medicine for those who may have no other access to medical assistance.
---
PROJECT NAME: Endless Computers
LOCATION: Nakuru, Kenya
GOAL: Kickstart educational adventures across Kenya!
BUDGET: $1200
STILL NEEDED: $1100
Our partner, Mike Brawan has cast vision to create a 10 computer lab in his local church.
Not only will this lab provide computers for students to learn with the power of the internet, they will also be entering a church. For many of these students, both experiences will be a first.
Additionally, we aim to set this lab on display by mid August for government officials who would like to replicate it across the country!
You have the power to make Mike's dream a reality by providing essentials such as a keyboard or mouse!
The Need
Each set of peripherals costs $100 to manufacture and deliver. You can get involved by providing a mouse and keyboard for $30, a monitor for $70, or a complete set for $100!
Additionally, Endless has partnered with Kytabu educational software to provide Kenyan curriculum on the computers. While parents in Kenya spend $15-$25 every year for their child to purchase schoolbooks, for $35, Kytabu can provide curriculum for an entire education! This digital content can be used by several children taking turns on the same computer. In addition to increased usage, these computers will be cared for in their labs and outlast their physical textbook counterparts.
The Back-Story
Following our application for 10 computers from Endless Solutions, we received 1,800 computers!
When our Kenyan partner Mike heard the number of computers headed for Kenya, he hurried call the Governor with the news! Excited about the possibility of providing mice, keyboards, and monitors for the other 1,790 computers, government leaders have asked to see a 10 computer lab.
Will you help us provide for this first lab? The potential for this lab to multiply across Kenya and Uganda is astounding!
About Endless
Endless' mission is to enable people to harness the power of computing everywhere. In pursuit of this mission, they have specialized their hardware and software to servecommunities with little to no internet or electricity. With the potential to operate by solar power, these computers promise to impact the lives of students across Kenya and Uganda! In a similar project, Lumen produced this lab in partnership with Endless.
The Vision
Will you join us in taking the first step to provide 1,800 educational computers to Kenya and Uganda?